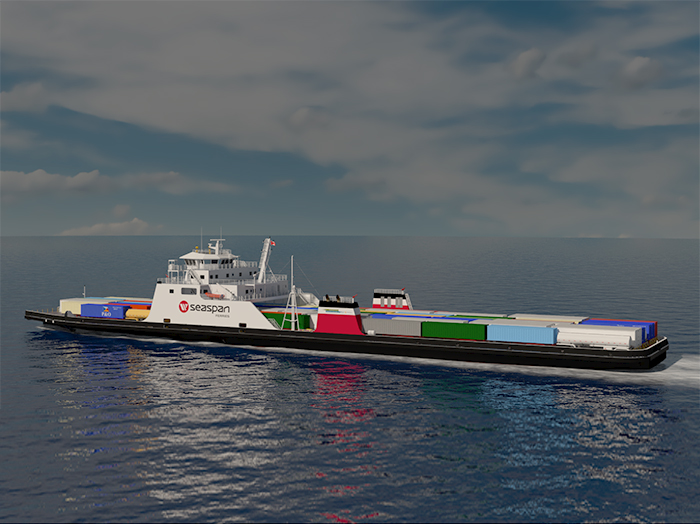 The two 149 m LNG battery hybrid RO/RO ferries recently ordered by Canada's Seaspan Ferries
(see earlier story
) may look a lot like the pair delivered to the operator last year, but they are being built by a different shipbuilder and will have a different propulsion system supplier.
Damen Shipyards Gorinchem B.V. is to build the vessels at its Mangalia, Romania, yard and has placed an order with MAN covering the provision of MAN 35/44DF dual-fuel engines, fuel gas-supply systems and the main electric systems, including batteries.
MAN says that, though Seaspan had initially been minded to build repeats of the two previous ferries, a live performance of its MAN 35/44DF engine demonstrated that a fully-integrated MAN solution could better fulfill the owner's requirements.
MAN Energy Solutions will provide the solutions in association with Aspin Kemp & Associates (AKA), in which it has a 40% stake. AKA specializes in power supply, energy management and drive systems for marine and industrial applications.
Similarly, MAN Energy Solutions' fuel-gas specialist, MAN Cryo, will provide the new ferries' fuel gas-supply system.
COMPELLING CASE
"We are very pleased to have won this order, and that our case was compelling enough for the customer to change an existing technical specification to our favor," said Wayne Jones OBE, Chief Sales Officer and Member of the Executive Board, MAN Energy Solutions. "It really showcases our strategic direction of developing sustainable technologies and solutions, and how we have expanded our business in recent years. This is a move that is now paying off as evidenced by the key roles that AKA and MAN Cryo play in this significant order."
Jason Aspin, CEO of Aspin Kemp & Associates, added: "This order represents a strategic milestone for AKA due to many factors. First off, it showcases the successful MAN and AKA partnership, offering highly innovative, full turn-key systems to operators. Secondly, it is a great opportunity for AKA's technologies to be deployed in our backyard in Canada with a leading and forward-thinking owner like Seaspan. And lastly, with a technology where AKA has been a first mover in several initiatives for over a decade, this demonstrates that the marine industry is opening to the value that hybrid systems provide in meeting their environmental reduction targets while at the same time reducing their operating costs. We are very excited to see this project kick into full gear and look forward to participating in a successful outcome for all stakeholders!".
SCOPE OF SUPPLY
MAN Energy Solutions' scope of supply for each shipset comprises:
2 × MAN 9L35/44DF Diesel/Gas-electric propulsion system
1 × MAN Cryo Fuel Gas Supply System including a 209 cu.m tank
1 × AKA main electrical system
1 × AKA 2-MWh energy storage systems
1 × AKA low voltage distribution system .
SYSTEM CHARACTERISTICS
The MAN hybrid-system solution in combination with a fully integrated MAN Cryo FGSS that is exactly adjusted to the engines gas-flow requirements, offers reliable operation in gas mode – especially in view of the ferry segment's typical frequent and high load-fluctuations – and even with low methane numbers. For Seaspan, it was essential to avoid any diesel operation due to environmental and ecological reasons.
High system efficiency and the lowest emissions will also be achieved by having just one of two DF engines online at a time and at high load. Being able to operate with a one-engine-online concept means significant savings in fuel costs, running hours and therefore spare parts/maintenance costs.
The propulsion and battery hybrid system, integrated by AKA, provides sufficient propuslion power in all operational modes to serve Seaspan's requirements to maintain its routes on time, fuel-efficiently, and with a minimal carbon footprint.
Additional AKA hybrid features for this project include peak shaving under rough conditions and maneuvering, enhanced dynamic support during ship acceleration, and zero-emissions operation at the terminal.